For 4 generations, Georges Subrin's family lived in the hamlet of St. Pierre, in Morancé, Beaujolais, growing grapes and developing a passion: wines with a spirit.
Today, everyone is claiming for quality, it is a marketing fashion. For our wines from Beaujolais, we prefer "spirit". The landowner-winemaker takes advantage of his perfect knowledge of agriculture and wine-processing to produce a unique vintage that perfectly expresses the spirit of its soil and plant.
History
For over 10 centuries vineyards are present in the Beaujolais area. In 1395, the Black Gamay plant was introduced, giving its generous white juice. Wines from Beaujolais have always been appreciated from connoisseurs for their wide variety of scents and flavours. From the most floral to the most solidly-built. But, for long, they remained wines for the initiates. You had to discover them.
Thanks to some Parisian journalists wines from Beaujolais are now trendy, in Paris, San Francisco or Tokyo. A full array of wines that are truthful, rich in scent and flavor. A symbol of a treat, of a feast, of the French way of life…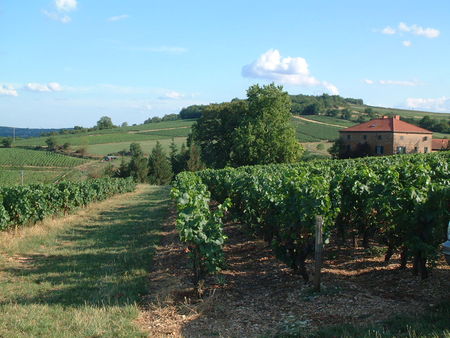 A long tradition of wine-making
Carefully handpicked, grapes are transported to the vineyard in small pails to avoid crushing. Alcoholic fermentation varies from 4 to 10 days, depending on the wine you intend to produce. Then come the "vin de tire", the "vin de presse" and the assembly stage. At the end the so-called malo-lactic fermentation takes place.
Also, Georges Subrin belongs to this new kind of ecology-minded wine-makers, treating their grapes only if and when necessary.
Our reds are well known. Did you ever try our whites and sparkling?
The best way of testing a wine is to taste it.
Why don't you come and visit us ?
(see the "Visite" section).
Georges Subrin
1370, route de Charnay
Saint Pierre 69480 Morancé, France
tél : 33 (0)4 78 43 67 69
GSM : 33 (0)6 70 96 44 33
GPS: 4°41'10"E - 45°53'17"N
taste it, love it...
SEE OUR WINE-LIST AND PRICE-LIST
IN THE "Notre Production" SECTION